About #Catalyst4Change
The #Catalyst4Change Award program has helped shine the spotlight on community supervision innovators since 2017. #Catalyst4Change is cFive's corporate initiative created to give back to the industry by creating a platform to recognize dynamic individuals in community supervision, share insight on what works, and build awareness and support in the community and beyond.
Over the past three years, we have received many fantastic nominations from across the United States allowing the program to recognize a few of the industry's many catalysts for change. Additionally, #Catalyst4Change has provided a vehicle for community supervision members to share ideas, receive recognition, and gain community and media exposure.
A History of Great Ideas and Dedicated Change Agents
Since the launch of the #Catalyst4Change award program there have been a wide variety of finalists and award recipients.  We invite you to take a few minutes and read their stories. It's a great way to see what is working in community supervision across the nation.
2019
2019 #Catalyst4Change Award Recipient:  Robert Barnett, Orange County Corrections Department (Florida)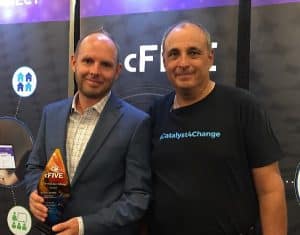 cFive was honored to present the 2019 #Catalyst4Change Award to Robert Barnett (Orange County FL Corrections Department) at the recent American Probation and Parole Association Annual Training Institute.  Robert was recognized for his work as champion of the County's Inmate Construction Program – an innovative and successful re-entry program.
The program was developed as the Orange County team recognized the critical role immediate access to employment plays in reducing recidivism and decided to do something about it.  They developed the Inmate Construction Program to teach inmates employable skills and provide them a long-term career path. Orange County worked with a local college to create a six-week curriculum that includes hands-on experience and the opportunity for students to receive certifications to give them an advantage in the job market.
The program has graduated thirteen classes and 242 students, with about seventy-percent of the graduates securing full-time employment.
Meet the 2019 Finalists. Click on the Finalists' name to be taken to their profile page.
Robert Barnett, Orange County Corrections Department (Award Recipient)
Doug Jaye, Lee County Probation
Michael Latham, Apache County Superior Court
2018
2018 #Catalyst4Change Award Recipient:  Stacy Ledvina, Manitowoc County Human Services Department (Wisconsin)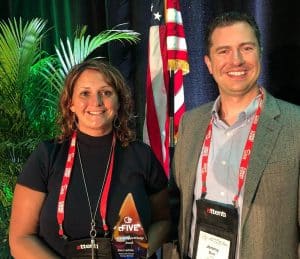 The 2018 #Catalyst4Change Award recipient, Stacy Ledvina, was recognized for her work as the champion of the "Kids at Hope" program for the Manitowoc County Human Services Department (Wisconsin). After meeting the program founder at an APPA Institute, she recognized that the Kids at Hope's empowering philosophy – All Youth are Capable of Success, No Exceptions! — would provide a strong foundation to help forge a new path for the County's youth services. She believed the Kids at Hope program could be a catalyst for significant change within the county's juvenile services department and quickly secured county support. From there, Stacy worked to develop funding and support the county-wide launch.
Since the launch of the program the County has positively impacted thousands of youth. Results include a substantial reduction in juvenile court referrals and a 72-percent reduction in bookings to the secure detention facility.
Meet the 2018 Finalists. Click on the Finalists' name to be taken to their profile page.
Arlyn Harris, Maricopa County Adult Probation Department
Jill Johansson-Love, Dallas County Community Supervision & Corrections (Adult Probation)
Stacy Ledvina, Manitowoc County Human Services (Award Recipient)
2017
2017 #Catalyst4Change Award Recipient:  Herb Sinkinson, Burlington Probation and Parole, Vermont Department of Corrections
Believing that having members play an active role in setting expectations for probation could be life changing for offenders, victims and their community, Herb and the Burlington Probation and Parole team worked diligently to launch and grow the state's Reparative Board program in their area. Emphasizing an offender's need to take responsibility and hold themselves accountable, the program taps guidance from community members to identify an equitable course of action.
Feedback from the public, victims and community agencies has been outstanding. Offenders see significant benefit, including positive behavior changes and prosocial lifestyle development. When compared to offenders who did not participate in the program, research cites program participants exhibit a 23-percent lower recidivism rate.
Meet the 2017 Finalists. Click on the Finalists' name to be taken to their profile.
David Cervantes, Las Vegas Municipal Court
Jay Holmes, Sedgwick County, Division of Corrections
Veronica Perry, Medina County Court of Common Pleas Adult Probation Department
Erin Rodriguez, Fifth Judicial District Community Corrections
Herb Sinkinson, Burlington Probation & Parole, Vermont Department of Corrections (Award Recipient)